A Couple's Journey into the Recent Past
© Jan & Charlie Rose
Photography by Charlie Rose & Keith Sutter
published in ANVIL Magazine, October, 1997
A visit to China earlier this year included going along vast sections of the Silk Road with a visit to the city of Kashgar, which was a step back in time.Kashgar, the central city of the Uygur people, is in the far northwestern portion of China, very close to the old Russian border. It is in the Xinjiang region, one of the autonomous regions of China, which is primarily a Turkish-speaking Muslim area. It is only here and in Tibet that the Han Chinese are in the minority.

(On the left.) Ponies that look like their Mongolian ancestors are tried out with a quick spin and 75-meter dash. A spin to the right and another dash and a spin to the left, with or without a saddle.
Kashgar is famous for its weekly Sunday Bazaar where everything that is grown, woven or made of a local resource, such as clay, can be purchased or traded in the same way today as when the Silk Road was such an important trade route. There is fast-paced trading, bargaining and more bargaining.
The predominant modes of travel in this part of the world are walking, riding donkeys and riding in donkey carts. But progress has reached even this remote area, and bicycles and an occasional old truck can be seen. Other signs of progress we witnessed were a group intently watching a television set, and, among the sales of carcasses of meat and woven mats was an occasional Muslim talking on his cell phone! Fascinating contrasts of old and new.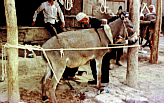 (On the right.) Walking through a section of tradesmen, potters, blacksmiths and farriers, we came upon donkeys that were restrained between poles - one at the animal s head and another at the rear of the animal. With a rope tied to the rear post, they would run several lengths around the posts and the animal, effectively confining the animal to that location. It seriouslys restricts any rapid movement. This made the farrier's job safer and more efficient.

(On the left.) Blacksmithing was as it has been for hundreds of years - heating by coal or wood fire, pounding out metal on an anvil.
Return to the ANVIL Online Table of Contents for October, 1997.