American Farriers Association Annual Convention
Kansas City, Missouri, February 28 - March 2, 1996
© Henry Heymering, CJF
published in ANVIL Magazine, June 1996
The 25th anniversary for any organization is a real milestone - lasting for a generation means the organization is pretty healthy. The annual convention is essentially the only meeting of the members. This year's convention was jam-packed. You wouldn't have to look far to find three or four different (and interesting) things to do at any one moment. As a result, even though I did a lot, I can't help feeling that I also missed a lot.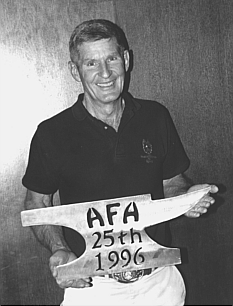 (Shown in the photo to the left is Walt Taylor, founder of the AFA.)
One of the handy improvements this year was that the media learning center videos could be watched almost any time of the day in your own room on TV.
The Board of Directors meeting was well run and interesting. Acting president Mike DeLeonardo brought along a professional parliamentarian, as did Emil Carré. Having the help and guidance of an impartial expert in parliamentary procedure made the meeting much more focused and productive than it might otherwise have been. Mr. DeLeonardo also, during discussion of motions, carefully alternated between those speaking for and those speaking against each motion, and this made for a very fair and clear presentation of both sides.
The position of president-elect was found to be contrary to our constitution, and therefore null and void. It was then up to the Board to vote to fill positions of president and vice president. Lim Couch was elected president, and Mike DeLeonardo was elected vice president. The membership now stands at about 2300, of which nearly 20% are Certified Journeyman Farriers. Dennis Manning announced, with pride, that the Farriers Registration Council of the United Kingdom will now accept as a qualified farrier (DWCF) anyone with our CJF certification and four years of experience (rather than the two years we require).
It was asked that everyone book their flights (anywhere, any time) through the AFA travel agent. The AFA gets 1% of the purchase price, and they guarantee the lowest available fares. If you can find a lower fare, please call the AFA office to let them know.
Jack Millman, chair of the Public Relations Committee, says there are now a couple of fold-up booths stocked and ready for use at other fairs, conventions and the like, to promote the AFA. Contact him or the office for details.
Emil Carré voiced a number of concerns about the structure of the Board and the functioning of the committees - those were passed to the Constitution & Bylaws Committee to be dealt with at the mid-year meeting. Emil will chair that committee.
There were nine major speakers this year, and many smaller lectures and demonstrations. Here are some observations of six of the major speakers:
Doug Butler, PhD, CJF, FWCF, spoke very broadly on horseshoeing. He listed the preconditions of learning to be: 1) recognition of ignorance, 2) motivation, and 3) willingness to undergo pain. He quoted Bill Moyers, DVM, from the April, 1994 issue of Hunter and Sport Horse as saying: "There are too many people criticizing farriers when they don't have a clue how difficult it is to shoe a horse. The margin of error that the farrier has to work with is less than the margin of error a vet has when performing surgery on a horse's knee joint."
Dr. Butler stressed that there is no Royal Road - no shortcut to the mastery of farriery. Mastery comes only with a great deal of time and effort. He also stressed the importance of drawing as a tool of learning and communicating.
"Successful people have coaches," said Dr. Butler, and he ran some videotapes of some of his students from about 15 years ago - folks who then showed great desire to learn, and are now some of the well-known movers and shakers in the AFA: Allie Hayes, Bryce Laraway, Bob Smith and Dennis Manning among them.
Dr. Butler said a farrier needs balance in seven skill areas: horse sense, business sense, shoe sense, foot sense, people sense, anatomy sense and health sense. And he concluded, "Some things are infinitely more important than horseshoeing."
Dr. Susan Sharp and Burney Chapman updated their progress on onychomycosis (a.k.a. white line disease). Previously, their research had shown that the fungi, Pseudallescheria and Scopulariopsis, were the two most frequently found in equine onychomycosis biopsies. Those now have been overtaken by findings of Aspergillus, including some as yet unidentifiable members of the Aspergillus species.
Dr. Don Kapper, from Buckeye Feed Mills (in my opinion, the best quality national brand of horse feeds), discussed the necessary nutrition of horse hooves. Dr. Kapper is well qualified on this topic - a respected equine nutritionist, as well as a farrier for ten years.
Dr. Kapper notes that because of soil depletion of minerals, there is no combination of simple grains and forage that will meet the nutritional needs of the growing horse. Almost all horses - and growing horses in particular - need to be supplemented with vitamins, minerals, and amino acids for optimum nutrition. The hoof is dependent upon good nutrition for quality growth. Biotin may help the outermost layer of hoof. Calcium may help in the middle layer of hoof. Amino acids (methionine in particular) may help in producing good quality laminae.
Dr. Kapper stressed meeting the basic nutritional needs (copper, zinc, iron and selenium are all frequently deficient) before supplementing other things to help hooves. Also, be sure not to feed too much grain at a time. Horses are not meant to eat "meals," but have evolved to graze constantly. The horse's stomach can only handle a maximum of five pounds at a time.
Farrier Tom Wilson once again presented his slide lecture, "The Problem with Farriers." Mr. Wilson's superb slides offer close-ups of many hoof problems.
Andy Parks, DVM, spoke about foot wounds. He cautioned to never use iodine, as it coagulates proteins. He said that one should never use anything on a fresh foot wound that you would not use in your own eye - even betadine is too strong. Sometimes it can be difficult to determine the depth and direction of puncture wounds. Dr. Parks recommends using a soft silver wire as a probe, as it will only go where there is no resistance. Dr. Parks also advises to make sure that tetanus vaccinations are current for horses and humans.
Probably my favorite part of the convention was, once again, the leg dissections. This year there were no fresh specimens - all of them were supplied by HorseSense. There were specimens with dozens of different pathological conditions: abscesses, punctures, fractures and joint fusions, and they were cut up in such a way that you could easily see what resulted from these problems. It was truly fascinating.
Making new friends is often a part of these conventions. I met two farriers who have lived within 20 miles of me for the last eight years: Buck Haws and Ronny Crider. I also had some stimulating conversations with Gene Ovnicek and Mark Plumlee about Gene's Equine Digital Support System shoes. It was enlightening speaking with Alan Clarke, Rick Burton, John Duckworth and Russ Vanderlei, as well.
Some of the new items were drive-in tungsten pins from Mustad and from Michel Vaillant. Bill Clark was there representing the new North American Horse Nails. Castle bar-wedge pads are now made out of harder material. And Victory has a new inner-rim Elite shoe.
Fran Jurga and Clint Carlson again hosted an Internet party for those interested in getting together to see what the online world has to offer farriers. Karen Pautz of www.haynet.com (a huge horsey web site) was there. Baron Tayler's web site, www.horseshoes.com, is by far the largest site of interest to farriers and is growing rapidly. If you have Internet access, log on and say hi! I'll be available there. My E-mail address is horseu@cvn.net.
Return to the Farriery Articles listing page.
Return to the ANVIL Online Table of Contents for June, 1996.