Published in the Jan - Feb 2002 Issue of Anvil Magazine
Note: Images with captions appear at the end of this article.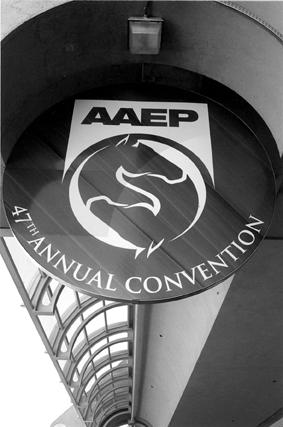 You do know the difference between a veterinarian and a farrier, don't you? A farrier uses tools; a veterinarian uses instruments. Oh, how true! And I saw many, many instruments at the recent AAEP Conference. Looking at them churned my insides and reminded me just why I relate more to horseshoeing than to veterinary medicine!
A cold rain followed by clear, crisp skies welcomed the 47th Annual Convention of the American Association of Equine Practitioners, which was held from November 24, 28 2001, in San Diego, California. The well-organized event, which was attended by some 2,200 veterinarians and another 960 guests and trade show exhibitors (around 280 trade exhibitors in all) boasted nearly 100 speakers. Many of the meetings and lectures ran concurrently at the harborside San Diego Convention Center and the adjoining San Diego Marriott Hotel and Marina.
In addition to the lectures, the Association offered half- and full-day wet labs on such topics as Dentistry, Lameness Diagnosis, and Ultrasound. The wet labs were limited to a specified number of students (from 18 - 50 participants), depending on the topic.
Thanks to efforts to bring the American Farriers Association into closer contact with the AAEP, the Convention is available to AFA members in good standing at the AAEP member rate ($295 for early registration, wet labs additional). At the event I saw several farriers whom I knew, some attending just for the day, others attending the conference. There was a large international contingency of some 150 or so, and it was interesting to stop someone with an international marker on their nametag and see where they hailed from and exchange a few words.
The day began early as informal "Sunrise Sessions" were held at 6:45 am. There was a long line of people who had not pre-registered for the event attempting to book a last-minute breakfast seat. The event took place in a fully packed, loudly buzzing room of large round tables; one topic was discussed at each table, with a moderator leading the discussion.
At lunchtime, there were over a dozen "Table Topic" discussions in separate rooms of the Convention Center, highlighting a particular topic. My only regret was that there were several meetings being held concurrently that I would have liked to have attended.
In addition to the professional conference, there was a special one-day event just for horseowners called "Horseman's Day." Some of the topics included: "Nutrition for the Lifetime of Your Horse," "Colic, California-style," and "What's New in the Ongoing Struggle Against Founder." About 250 horseowners attended for a $45 fee. They learned about the event by invitation of their veterinarian, who were sent flyers to distribute to clients in advance of the event. The horseowners I spoke with seemed to enjoy it. I stopped in to see the slides on laminitis with Dr. Bill Moyer. The images were reminiscent of what I have seen at the Bluegrass Laminitis Symposium, as Dr. Moyer successfully explained the disease in layman's terms.
Certainly much of the information presented during the lectures was over my farrier head, such as: "How to Select and Fit a Breeding Dummy Mount for Stallions" and "How to Perform a Primary Closure Castration Using an Inguinal Incision." But there were a fair amount of lectures that did apply to our occupation, and those were the ones I sought out, along with some important health information for horseowners.
West Nile Virus
At one of the opening presentations, The Kester News Hour, presented by Dr. John Madigan of UC Davis and Dr. Larry Bramlage of Kentucky, addressed brief subjects of current health concerns. One important reminder was about the West Nile Virus. This virus is spread primarily through mosquitoes feeding on infected birds; the horse is considered an incidental infection or a dead-end host (this means you cannot get the disease from a horse); humans are also affected, however. So far this year from June until mid-October, there have been 416 confirmed equine cases in 19 states; of these, 24% of the affected horses died or were put down. In Florida alone, there were 32 equine deaths. The infection began on the East Coast, and as the birds migrate-like the killer bee-they are on a broad sweep across the country. Some experts have warned that perhaps the infected birds are estimated to migrate to California by summer/fall of 2002, or at the latest 2003. Recent evidence suggests that the species of West Coast mosquitoes are able to transmit the virus with even greater efficiency than those on the East Coast. Therefore, it will be important to begin a prevention program against the virus. Fortunately, Fort Dodge has made a vaccine: two intermuscular doses are to be given at an interval of three weeks apart. So far over a million doses have been distributed and no serious reactions have been reported.
Another interesting tidbit was information on the growing resistance of some bacteria to antibiotics, now even a consideration in horses. The topic was salmonella. It turns out, like tetanus, salmonella lives with us daily. Normal-appearing horses can carry low levels of salmonella. A colicky horse can shed salmonella from its stool when under stress, especially during periods of diarrhea and an extended hospital stay. This can transmit the infection to other horses. Bleach and water (1:32 ratio, 5.25% solution) remains the disinfectant of choice for cleaning stalls, trailers and other areas.
Unfortunately, many strains of salmonella show antibiotic resistance. In fact, there has been a concern in public health about human antibiotic resistance for some time. In a recent study done on ground beef purchased from supermarkets, it was determined that 20% was contaminated with salmonella and 84% of the beef tested proved to have some degree of resistance to antibiotics. A staggering 24.6 million pounds of antibiotics are used in the meat industry per year for non-therapeutic use. (For prevention in feedlots, animals raised for meat are routinely fed low levels of antibiotics in their feed.) In comparison, two million pounds of antibiotics are used for therapeutic purposes in animals and three million pounds are used for therapeutic purposes in humans per year. Chickens were also tested from off the supermarket shelves; of the 407 chickens that were tested, 86% proved to be resistant to antibiotics. It is now apparent that horses are also becoming colonized with antibiotic-resistant organisms; horses with colic seem particularly susceptible to salmonella. This is considered a growing health concern.
It was reported that 4.2 per 100 horses colic every year. The fatality rate is 11%, and the surgery rate is 1.4%. The annual cost of colic in the United States is estimated at around 115 million dollars.
Lameness (Non-Racehorse)
As I entered the loudly buzzing room at a morning "Sunrise Session," I shared a quick word with a veterinarian participant who had come in at the same time I did. "This is the good stuff!" he informed me: "This is where you get to talk with the guys who really know the business."
I made my way across the labyrinth of maximum-capacity tables-amid clanking plates and past a large picture window with a view of sailboat masts in the nearby harbor, and found an empty seat at the table with the placard: Lameness (Non-Racehorse). I enjoyed the perspective of the many veterinarians there. Some of the conversation involved farriery, but much remained focused on joint injections (which many of these veterinarians practice with regularity and success).
Ours was a lively group. When talking about suspensory injuries, it was mentioned that many such injuries in fit sport horses are sustained and re-injured at turnout when the horse is playing. The overall consensus: Exercise is important but must be controlled; turnout for recovery can be iffy, and in some cases can actually make a horse worse. One horse we heard about became worse when turned out for a suspensory injury. Finally the trainer got sick of waiting, put the horse on some bute and slowly started him back to work again. The horse is now back to full work, doing fine. As far as shoeing recommendations for suspensory-injured horses, Dr. Terry Swanson suggested bringing breakover back to a reasonable distance from the apex of the frog and not raising the heel. Often the hoof runs forward, adding to the stress on the limb. In this case the support of the foot needs to be brought back under the limb. The Natural Balance shoe was mentioned by two of the veterinarians as a good solution for this condition.
We also talked about magnets in our group, and if they contribute to healing. One of our veterinarians reported success with cosmic reduction of non-painful, set (5 -6 months) splints. He had 12 owners put magnetic wraps on 12 horses, and saw reduction of size and smoothed-up appearance in all of them. (Some of the vets were skeptical, however, as there were no controls for comparative results.)
For almost any lameness, it was suggested the veterinarians put an extra film in the cassette when shooting a lateral radiograph to make a quick and cheap copy for the farrier. This second radiograph isn't quite as crisp, but suffices as a way to communicate between veterinarian and farrier.
Walking on Eggshells
Dr. Justin Janssen of Sheridan, Indiana, shared an excellent footing he has come across. His town boasts an egg-breaking plant, and the broken, crushed shells make a serviceable arena and round pen footing. He arranged for this footing for a cutting clinic this summer. The shells were laid six inches deep and provided a non-slip, low-dust, non-compacted surface, with the added benefit of bright illumination-especially helpful in indoor arenas. The shells were tested free of salmonella (although they did have a few other bugs) and the surface lasted six months before watering was required. At $2 per ton, Dr. Janssen considered the eggshells a bargain.
Canker
Dr. Bill Moyer of Texas A & M University spoke at the lunchtime Table Topic meeting on canker. He provided photographic slides of affected horses to help describe the disease. Dr. Moyer explained, "Canker usually originates from the frog; it is a highly proliferate, abnormal growth of tissue. The appearance is that of an off-white, cauliflower-like mass, the odor is distinct and noxious; the mass bleeds easily. The origin/cause is unknown. These are difficult cases to treat and manage."
Dr. Moyer resects abnormal tissue, may or may not utilize cryotherapy (freezing of exposed abnormal tissues), and usually administers local application to the exposed area with 2% iodine and a bandage. This process always means multiple bandage changes and attention to careful home care. Dr. Moyer showed photographs including that of a draft horse that had complete collapse of all four feet which were infected with the disease. Some of the contributing conditions may include a wet stable environment. The disease is somewhat puzzling; it seems we still don't fully understand canker.
White Line Disease
The other topic of Dr. Moyer's lecture was white line disease. This can also be known as stable rot, hoof rot, hollow hoof, or seedy toe. Dr. Moyer feels that there is a greater incidence of this condition now than in years past. The condition includes a separation and deterioration of the tissues affecting the junction of the innermost layers of the hoof wall. It may be either fungal or bacterial. The owner isn't usually aware of the condition, which is most likely discovered by the farrier.
Dr. Moyer recommended debriding the affected area with a motorized burr to expose the damaged hoof to the air. The most important thing is to remove all of the powdery, sawdust-like substance. It may be necessary to repeat the debriding another two or three times to get proper reattachment of the hoof wall, and make sure the new tissue is strong and united. Painting the area with 2% iodine as a topical astringent is recommended. Be sure not to cover the area with hoof wall rebuilder until at least 60 - 90 days (or at least until healthy horn re-grows); doing this before the episode is completely over will only hasten the growth of the disease.
Rapidly changing weather seems to aggravate the condition, especially wet to dry, hot and humid extremes. It was also mentioned that horses that work hard seldom seem to get the disorder. "Today's horse in most instances is an apartment dweller," Dr. Moyer observed. "These horses are treated better than I am treated at home." But in many cases, horses suffer from a complete lack of exercise; and white line disease seems to be more and more prevalent. It can also be caused by an injurious blow or pressure to the foot, such as banging a foot against a stall.
One veterinarian in the audience reported treatment success by resecting the foot and packing it in ethanol (alcohol) for 4-5 days. At this point in time, the underlying material may be of sufficient strength to allow being covered in a hoof wall rebuilder with success. He claims alcohol to be the only thing he has tried that works in such a short time frame; otherwise, the problem is likely to recur.
No Foot No Horse
At a lunchtime "Table Topic" lecture by Dr. Gayle Trotter of Colorado State University and Dr. Robin Dabareiner of Texas A & M University, the discussion was centered around the hoof. Presenting a slide show of various feet, they commented on the issues they saw and gave shoeing recommendations. "I really believe that the trimming is even more important than the shoeing," Dr. Trotter asserted. "On most horses you can do a lot with trimming alone to achieve more caudal heel support." Both Dr. Trotter and Dr. Dabareiner strive for at least a 50/50 balance between the amount of foot in front of and behind the widest part of the foot. This involves trimming the heels back to the widest part of the frog, fitting the shoe full to the back of the foot, and backing up the toe of the shoe.
"If the feet have really migrated forward, the shoe ends just under the navicular bone and adds pressure up through the frog. Some of these problems are due to owners asking farriers to leave long heels. In fact, the heel must be cut in order to make it grow." Dr. Dabareiner said that she had difficulty explaining this to her clients, until she made the analogy to hair; if you don't trim your hair it gets split ends and remains unhealthy.
"I really like getting the feet backed up, so I can get more heel support behind. We have used this method for a number of years. We have worked hard to learn the principles of getting the foot backed up, how much sole to take. Initially, we always take lateral radiographs like Dr. Barbara Page takes [with markers from the hairline to the dorsal wall, and a tack to mark the true apex of the frog]. In subsequent shoeings, we don't take radiographs."
The shoeing recommendations follow the lines of Gene Ovnicek and his Natural Balance System. The emphasis is on getting the foot back underneath the horse, with the weight supported by the caudal (rear) portion of the foot. Both Dr. Trotter and Dr. Dabareiner quoted the research of Dr. Barbara Page of Littleton, Colorado, in how they view the foot. "Our farrier never used to watch the horse move. Now, we watch the horse travel and strive to attain a slightly heel-first landing." Dr. Dabareiner says there are two types of horses she sees: Those that improve immediately after corrective trimming and shoeing, and those that are sore for a few days. In the latter cases Dr. Dabareiner utilizes pain medications to buy time in order to get the shoeing worked out and allow the horse to get used to the new hoof angles.
Dr. Trotter and Dr. Dabareiner feel that trimming to the plane of the living sole is a reliable reference for medial-lateral balance. In fact, if the plane of the living sole (the waxy live sole as opposed to the exfoliating, chalky, dead sole) is invaded, secondary problems are created; therefore it is important to know when to stop in the trim. The widest part of the foot is the most static reference to the coffin bone within the foot. In Gene Ovnicek's research, when dissected feet were trimmed to the live sole and the feet were cut crossways, there was an astounding accuracy of balance.
What about the horse that is out of balance due to a limb deformity? When radiographing joint spaces in the coffin joint, Dr. Trotter has found that even if the horse hits uneven, as long as there is the same amount of sole uniformly under the coffin bone (trimmed to the live sole), the joint space is kept even from side to side.
"The hind feet are very important," continued Dr. Trotter. "A domed dorsal surface to the hoof wall often indicates a negative-plane coffin bone. We have found a connection with this shape of foot to hind-end lameness, especially hock, pelvis and gluteal pain. It is important as a veterinarian to learn more about feet so that you can become a more active participant with the farrier."
In the discussion following the lecture, a veterinarian in the audience said that he has the best luck with correcting run-forward feet by pulling off the shoes, backing up the foot, and having the horse kept barefoot in a deeply bedded stall. The farrier returns in two weeks and re-evaluates the horse, often backing up the feet further. He feels he is able to get more done with this approach than by keeping the horse in shoes. Certainly the sentiment in the room was that keeping the horse barefoot for a period of time can be useful.
Marketplace
The trade show at the AAEP Convention gave me a new appreciation for my veterinarian's fee structure. Yes, veterinarians use instruments, and these are expensive. According to Dennis Scanlan, President and CEO of Sontec Instruments of Englewood, Colorado, the average instrument sells for about $75. "And every time one falls in the mud and a horse steps on it, you have to buy a new one!" lamented a veterinarian I saw purchasing a few shiny new hand instruments. Being a surgeon is even more costly. Four specialized back surgery instruments, complete with titanium blades, sold for $1,500 each. And what about radiographic, endoscopic, ultrasound, thermographic and computerized equipment: $8,000 - $30,000 each. How about a custom-built heated therapeutic recovery pool with built-in treadmill? $75,000. And those shiny refrigerated beds on the back of their trucks range from $5,000 - $10,000. Finally with the cost of their education thrown in, the average veterinary graduate has $80,000 in debt. Gee, the forty dollars I spent recently having my horse's eye examined now seems like a real bargain!
Next year's AAEP Convention will be held December 4-8, 2002 in Orlando Florida. If you can, come on by for all or part of the event. The AAEP can be reached at: 4075 Iron Works Parkway, Lexington, Kentucky 40511; 800-443-0177. Their web site is www.aaep.org.
Editor's Note: Dawn Jenkins is a freelance writer and farrier from Frazier Park, California. She can be reached at dawn@frazmtn.com