Published in the February 2001 Issue of Anvil Magazine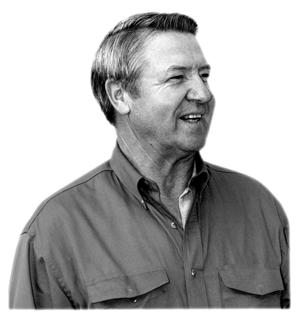 Please note: The complete version of this interview is located in our Full Content Area which is available to Anvil Magazine subscribers and Anvil Online members.
Go to the complete article now
Subscribe now using our secure server
Lee Green owns The Shoein' Shop in Yucaipa, California, a complete farrier supply store. Lee is also the manufacturer of a number of well-known tools and farrier supply items.
One of his many skills is shoeing mules for which he has become famous among his peers, mule owners, and the participants of annual the Mule Days Celebration, in Bishop, California.
ANVIL: When did you start horseshoeing?
LEE: I followed my dad around as soon as I was old enough to get out of the house. He shod horses for 54 years. I started shoeing a complete horse, start to finish, when I was 11 years old. That was in 1953, so it's been over 47 years now. I have never really been away from it, and have been shoeing horses ever since.
ANVIL: Were you living here all that time?
LEE: No, I grew up in central Utah. It was a different time and a different place. The shoeing profession was a totally different situation then. We didn't have all the good equipment, shoes and tools that we have today. I spent the early `60s in the Grand Canyon shoeing mules.
ANVIL: Is that where you first started shoeing mules?
LEE: No, I used to ride a mule when I was a kid. I had a white mule and for awhile I figured since all my friends were riding horses and I was riding a mule, that I was the one riding a second-class mount. That was until my mule outran them! I really learned to appreciate mules around that time, and also again later on in the Grand Canyon, when I worked with them and learned to depend on them.
ANVIL: The thing I noted about mules on pack trips is that a mule.....
<End of Abstract>
Please note: The complete version of this interview is located in our Full Content Area which is available to Anvil Magazine subscribers and Anvil Online members.
Go to the complete article now
Subscribe now using our secure server
Part 2 will be published in next month's issue.
Return to the February 2001 Table of Contents