Home
Our August 2001 Cover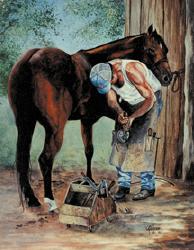 "Hard at Work," 11" x 14" acrylic. Painting subject is farrier Rick McCracken, by artist Kellee Cordingly. Says Kellee, "It was 110 degrees the day I painted this of Rick. He's a great farrier, and works rain or shine." Prints are available, as well other farrier- and equine-related artwork. Kellee's artistic achievements gained recognition when she was selected as a featured artist at the National Cowgirl Hall of Fame in Hereford, Texas. She can be reached at:
E-mail: kgcom@grm.net.
Web site: artbykellee.com.
(c) 2001 Anvil Magazine
_______________________________________________________