Our April 2000 Cover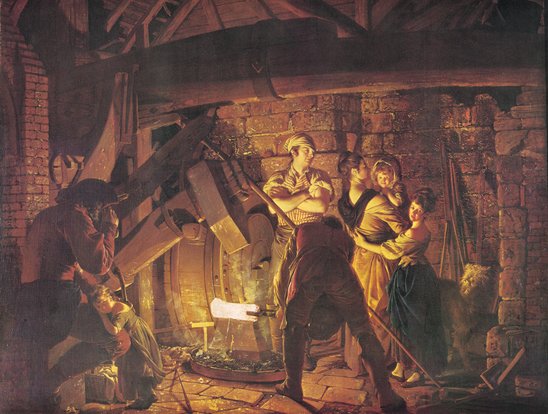 April Cover Story:
"The Iron Forge" by Joseph Wright comes from the collection at Broadlands, the home of Lord Mountbatten, Romsey, Hampshire, England.
Joseph Wright of Derby (1734-1797) was a painter who truly embraced the period in which he lived. Born at the outset of the Industrial Revolution in the small manufacturing town of Derby, his paintings reflect the vigorous spirit that heralded industrial progress.
"The Iron Forge," painted in 1772, is a prime example of Wright's concentration on the source of light in the center of his subject. In his painting, the white-hot bar of metal illuminates the figures surrounding it with an almost magical intensity.
For those interested in viewing the original painting at Broadlands (which has received attention as it was Prince Charles' and Princess Diana's honeymoon site), visitors are welcome from April to September (except when reserved for Royal visits.)
Additional framing prints of "The Iron Forge" are available from A. Finkl & Sons Co., phone: 773/975-2500.
(c) 2000 Anvil Magazine
_______________________________________________________